From Making to Critical Making
October 03, 2023
4 min read
A 2,5 years participatory research project is coming to an end, but the results and useful resources and tools are available for anyone – whether you want to become a reflective maker, an inclusive makerspaces or a critical maker educator.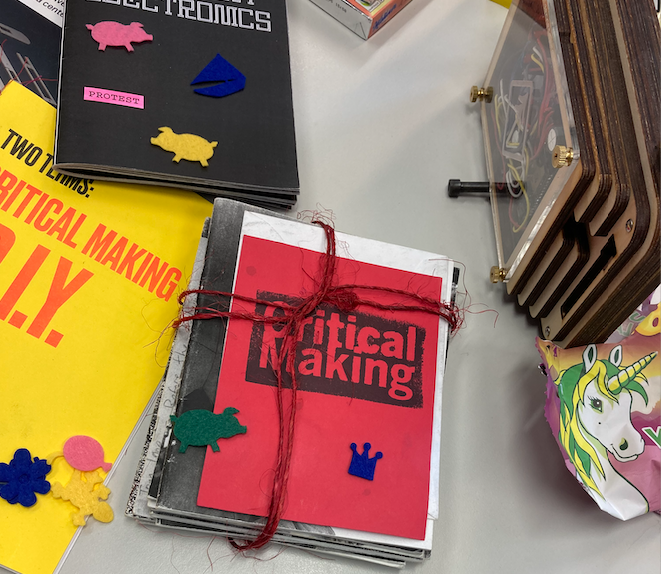 The Critical Making consortium started its journey in 2021. We wanted to gain insights into the potentials of the maker movement for critical, socially responsible making, and show how the global maker communities can offer new opportunities for young makers of all genders to contribute to an open society via open innovation.
More specifically, we invited global makers to become co-researchers and jointly explore innovation processes in open makerspaces. They helped us to co-design case actions that further explored aspects of gender-inclusiveness, openness and the recruitment of young talents. This journey brought many new insights, but also new challenges. Working in a truly participatory way was tough, especially when actors were distributed across the globe and faced with very complex and different sociocultural and political contexts. But the outcomes and lessons learned were rewarding not only for project participants but also for those interested in becoming socially responsible and inclusive makers.
To foster gender inclusiveness in making the co-creation process resulted in  a series of formats and activities, which include new workshop formats for caretaker-inclusive making, material that fosters the dissemination of gender diversity in making, and workshops that support women in local communities to engage in making. Explore for yourself: https://criticalmaking.eu/gender-equality-making/
We believe that Critical Making also has the potential to future-proof (technical) education. That is why we designed a workshop format to create Critical Making encounters and conduct participatory action research with multiple stakeholders. We identified challenges and opportunities for Critical Making in education, again very different according to sociocultural and political contexts. Still, the Critical Making Manifesto should be applicable globally, we hope. See for yourself: https://manifesto.criticalmaking.eu/
Critical Making is also open and with the Critical Making Mentoring Programme we were able to jointly explore the potential of open hardware for a reflexive, sustainable, open, joyful and  impactful innovation practice. Watch the amazing open hardware projects and the mentoring workshop series: https://criticalmaking.eu/mentoring/
Critical Making is open, local and connected, social and diverse, reflexive, impactful, joyful and meaningful. This is what we learned from the global makers and there is still a lot to explore with regards to critical making processes. For now, we already have a useful set of resources and tools available that we are happy to share with the community:
Critical Making Tools
Critical Making Wundertüte, a compilation of Critical Making tools:
https://zenodo.org/record/8116625
Critical Making zine: https://zenodo.org/record/7966847
Critical Making escape room game: http://play.criticalmaking.eu/
Critical Making guidelines on gender-inclusive makerspaces: https://criticalmaking.eu/creating-an-inclusive-and-welcoming-maker-space/
Critical Making inspirational stories: https://criticalmaking.eu/inspirational-stories-about-gender-inclusive-making/ 
Critical Making educational guidelines: https://github.com/vektorious/cricial_making_education
Critical Making educational box: https://github.com/vektorious/cm-flashlight
Critical Making Open Hardware Mentoring talks:
https://www.youtube.com/playlist?list=PLUGM9odWOqO6tuX9lZxcluqzrec4fKV3N
Critical Making special issue: https://zenodo.org/record/8116682
Critical Making Community
Join the amazing critical makers on our Wikifatory community: https://wikifactory.com/+criticalmaking
and watch a short Knowledge Pill about Critical Making: 
6 core values of Critical Making
Open: Critical Making promotes open collaboration, including the sharing of skills and knowledge. It boosts creativity in the ecosystem of makers by making processes and results accessible.
Local & connected: Critical Making is happening locally, working on the ground and adapted to a particular socio-cultural context. Thereby, critical making implies an engagement with local communities as well as global networks – thinking globally and making locally.
Social & Diverse: Critical Making reflects on the social dimensions of making, the living realities of those persons involved and concerned, as well as the ethical implications of their work. Critical Making thereby addresses societal challenges and needs. That's why it is so important to strive for diversity and inclusiveness.
Reflexive: Critical Making re-thinks and re-constructs the dominant mainstream maker culture from a critical stance, reflecting on underlying power structures and their implications.
Impactful: Critical Making aspires to really make a difference. It seeks to improve life and build a sustainable future.
Joyful & meaningful: Critical Making is still about the joy of and in making, but adds meaning to it. What is made critically is made with a specific purpose of individual or social kind.