GIG and mAkE take on Fab Fest + Fab Island Challenge 2022
December 16, 2022
4 min read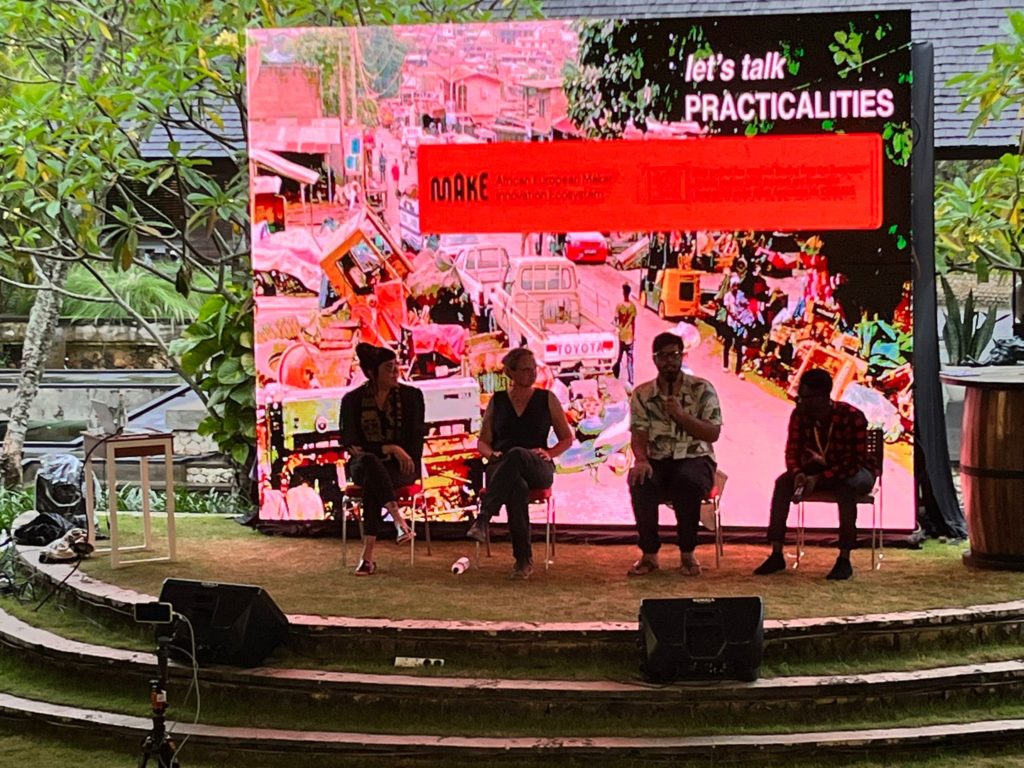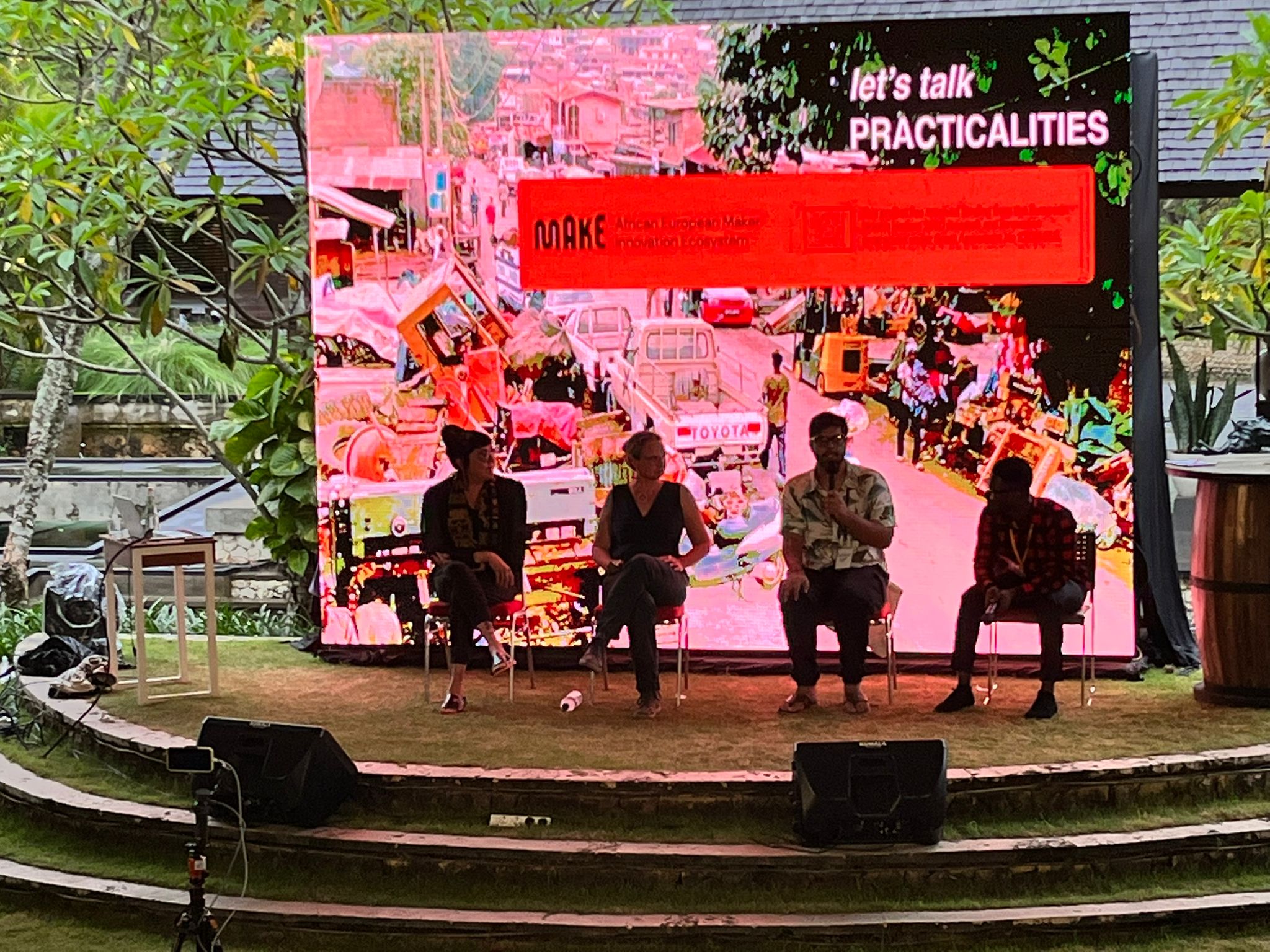 The Global Innovation Gathering (GIG) hosted a panel discussion at the 2022 Fab Fest which took place from 12th – 23rd October at Jimbaran Community Hub in Bali. The panel looked deeply into the reality of the future of decentralised manufacturing, discussing the practicalities for this to become a reality as well as necessary interventions and measures that would need to be put into place to create global opportunities for sustainable maker communities.
GIG is a vibrant, diverse community of innovation hubs, makerspaces, hackerspaces and other grassroots innovation community spaces alongside individual innovators, makers, technologists and changemakers. GIG is part of the mAkE project which is a transdisciplinary action aimed at connecting European and African Digital Innovation Hubs to maximise their potential as spaces for digital innovation, skill building, job creation and contact points for global collaboration networks.
Presenting projects such as mAkE, which aims at building a network of networks supporting the maker ecosystems across Europe and Africa, the conversational panel unpacked the reality behind the future of production. Co-creating requires knowledge and understanding of challenges like sourcing materials, logistics, warehousing, policies and the panel's experience exploring real examples and case studies shed light on paving the way forward into actionable implementation thereby enabling realistic next steps to develop the network further.
The panel featured global #gigers Kirstin Wiedow (moderator) – co-founder of FABlab Namibia, Community and partnerships at Global Innovation Gathering and co-Lead of the mAkE Horizon 2020 project, Frank Bentum – Executive Manager for Africa Open Science Hardware (AfricaOSH), Ghana, Anna Sera Lowe – Founder & Chief Catalyst for Manufacturing Change, co-founder Kumasi Hive Ghana and Internet of Production Alliance and Kuldeep Bandhu Aryal – Technology for Development specialist at BRAC's Social Innovation Lab, Bangladesh.
What is the Fab Island Challenge?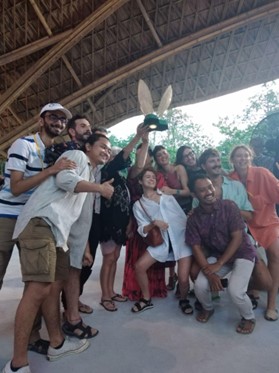 Challenge teams visit BambooU site in Ubud, Bali to find out more about the community's problems and ideate solutions. The winners of the challenge 2022, Kopernick, will receive further support to implement their innovations in the local community.
10 international teams. 10 challenges by local innovation initiatives. 10 days during the Bali Fab Fest. One goal: Accelerate the Transition to a Regenerative Economy in Bali. The Fab Island Challenge put out an open call for participation, explaining the urgency of community-driven interventions supporting local ecosystems and local cultures that can be shared amongst a global network. As a result, over 200 individuals, teams, and organizations from more than 30 countries applied to be part of this challenge. GIG was awarded one of the coveted spots and took part in the challenge to support the Bamboo community in Bali and explored innovative ways to engage the youth in bamboo craftsmanship, improve the construction methods using modern technology by creating 3D printed components to replace traditional joints and use biomaterials to bind bamboo together in creating structures for housing.
In global innovation, diversity allows new perspectives on old problems and harnesses the ability to assess problems from unique viewpoints towards tangible outputs. In this community activity, the challenge team included a fashion designer and maker from India, a chef and maker from Mexico, an artist from the UK, a material scientist from the USA, an engineer from Japan and our GIG team member, Kirstin, from Namibia! Although the bamboo challenge team did not take the winning trophy, the time spent learning from global makers and artists and engaging with local communities provided a wealth of insight into the problems and solutions which can be applied to more than just the bamboo industry in Bali. Connecting networks and investigating the power of communities of innovators has contributed to the mAkE project providing new connections, co-creation insights and future partnerships between not only Africa and Europe, but forward into global connectivity.