Exploring a common policy agenda for makerspaces in Africa and Europe
October 11, 2023
5 min read
In this collaborative blog post, the first in a series, we explore the importance of establishing a common policy agenda for makerspaces in Africa and Europe. Additionally, we present policy interventions aligned with this objective.
Contributors: Matthew Lubari, Adriano Mauro and Matthew Oloo
Author: Freda Yamorti Gbande, Fab City Foundation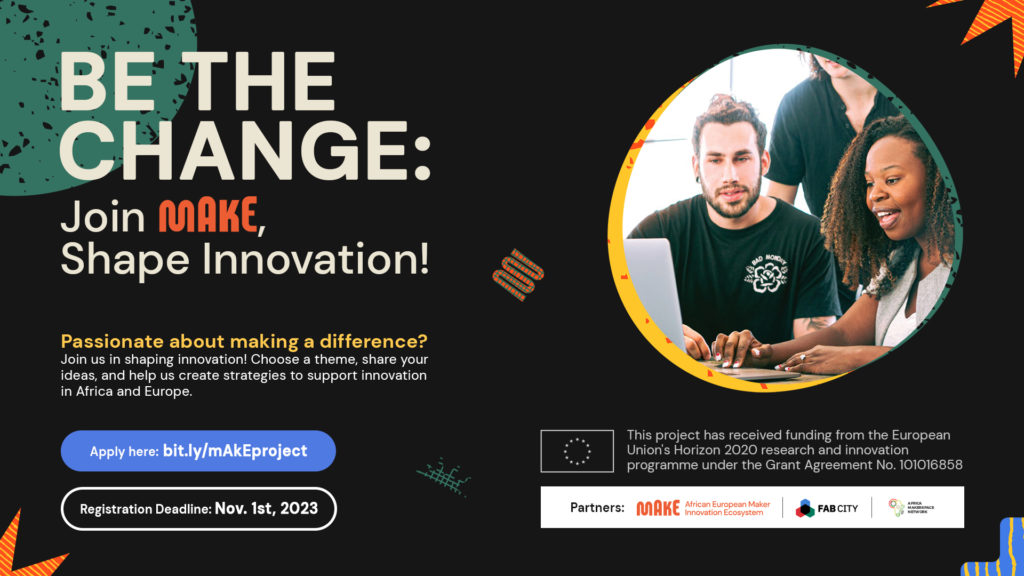 The African Makerspace Network and Fab City Foundation collaborate under the African European Maker Innovation Ecosystem (mAkE) project to research and propose policy interventions that support makerspaces in Africa and Europe.
This initiative aims to consolidate a common policy agenda, serving as an advocacy tool to garner support from policymakers and governments, recognizing the role of makerspaces in socio-economic development.
<<< Join our next discussion by registering here >>>
Focus group discussion 1 recap
The initial focus group discussion held virtually on August 25, 2023, highlighted the significance of creating a common policy agenda for makerspaces in both African and European regions. Enablers, barriers, and policy solutions were explored in-depth, providing valuable insights for the development of a comprehensive policy framework.
The collaborative efforts of makerspaces, educational institutions, and government agencies were recognized as essential for fostering innovation and sustainable growth in the makerspace ecosystem. By addressing the identified challenges and implementing targeted policy interventions, makerspaces can play an even more significant role in driving research, innovation, and economic development.
Policy interventions proposed by participants
Commercialization Focus: Policies prioritising research results commercialization.
Local Sourcing: Policies promoting the purchase of locally-made products to bolster innovation.
Intellectual Property Support: Policies that support the provision of guidance on intellectual property rights for open-source projects.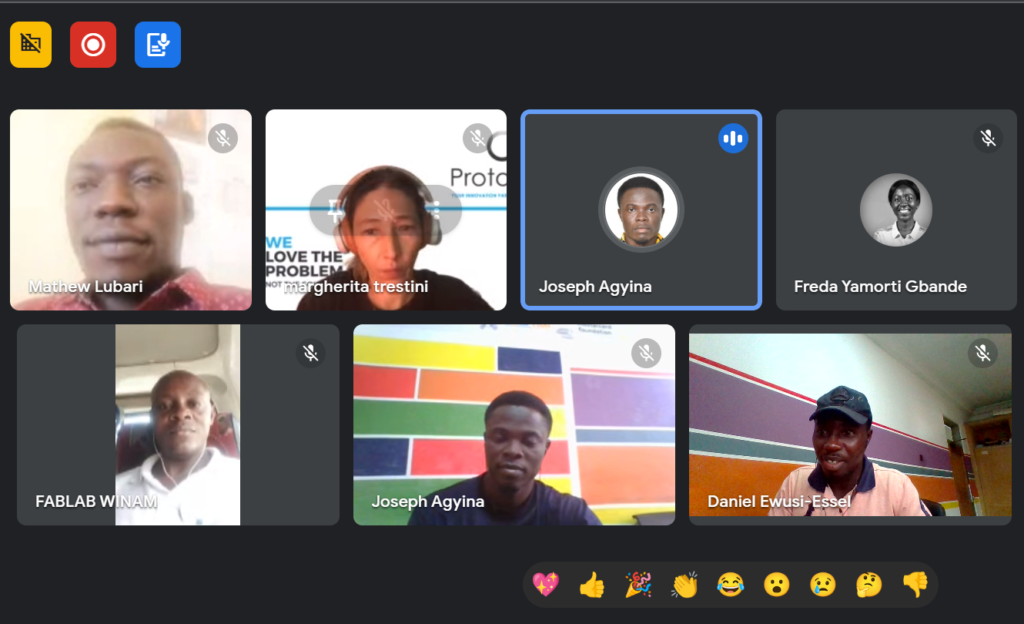 Participants from the first organised focus group discussion engaging in conversations around the makerspace community. Credit: Africa Makerspace Network
Gathering insights from stakeholders
Over the next few weeks (until November 2023), the project will invite stakeholders from Africa and Europe to engage in discussions on various themes:
Infrastructure development
Industrialisation and innovation
Responsible consumption and production
Industrial safety
Inclusivity
Climate action
Research and innovation
Education and human resource development
Partnerships and collaborations
Waste management and recycling
Circular economy
Open hardware
Who can participate in the discussions?
Participation is open to a wide range of individuals and organisations, including:
Makerspace founders
Makerspace managers
Makerspace community members
Facilitators/educators
Volunteers/mentors/students
Industry partners
Government/local authorities
Non-profit organisations
Suppliers and vendors
Join the discussion
If you wish to participate in our discussions, please register here.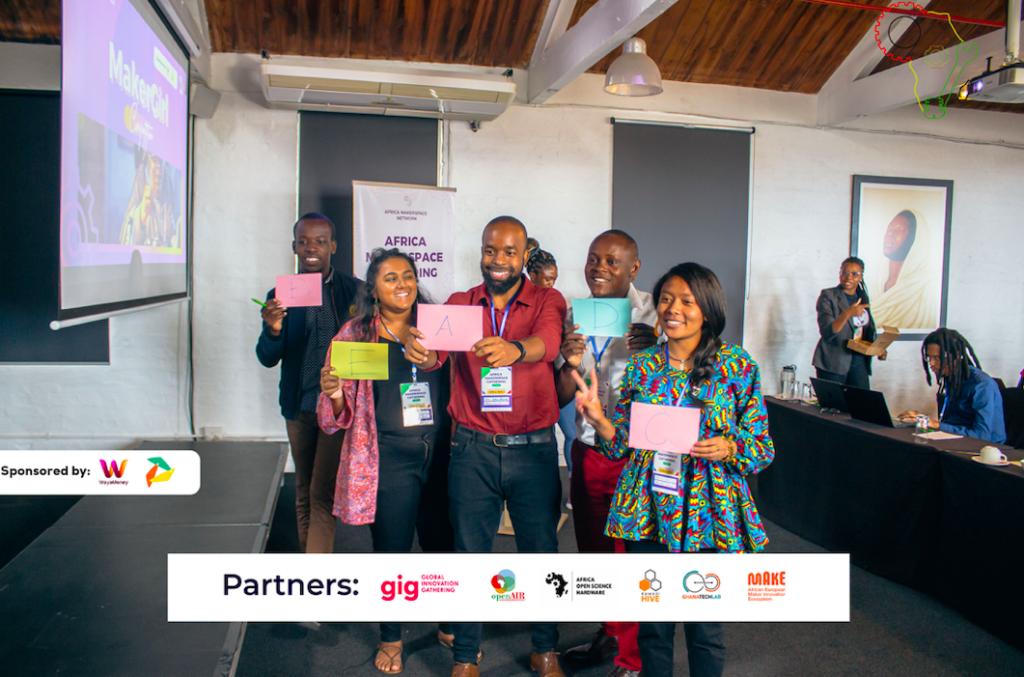 Attendees participating in a session during the Africa Makerspace Gathering 2022. Credit: Africa Makerspace Network
Brief description of each stakeholder (Focus Group 1)
Community Creativity for Development (Matthew Lubari, South Sudan)
Community Creativity for Development (CC4D) is a refugee youth-led community based organisation in Eden Village, Rhino refugee Camp in the west Nile region of Uganda with the aim of connecting communities while also finding solutions to protect the environment from global warming.
We do advocacy on sustainable practices of e-waste management such as repair, reuse and upcycling while empowering youths with digital literacy skills to enhance access to information and communication using approaches such as mobile repair cafés and mentorship events that help and encourage people to work together and share knowledge and skills hence building a more coherent and peaceful community.
CC4D have also established a community centre (Bright Makerspace) in Eden Village, a platform for skills training, innovation and making, learning, mentorship and e-waste management (offer repair services Monday to Friday and provide access to tools and information to anyone in the community) and where community members bring, on a daily basis their broken/faulty and damaged items/belongings to be fixed by local experts (volunteers) in repair of electronics, electrical, mechanical and textile products.
Website: www.cc4d.tech
Facebook: @CC4D.tech
Twitter: @comcreative4d
Apodissi (Adriano Mauro, Nigeria)
Apodissi is an SME with offices in Nigeria, Namibia and United Arab Emirates, specialised in transferring knowledge and technology between Africa, Europe, and the Middle East. It fiercely promotes African innovation by partnering with digital innovation hubs, research centres and universities to stimulate and advance digital entrepreneurship, innovation and cross-continental partnerships.
We have accumulated a reservoir of experience through 20+ years of experience in Africa and our involvement in several European-African research and innovation projects, such as DIGILOGIC, the first African Digital Innovation Hubs specialised in smart logistics. We conceptualise, develop and promote international research and innovation projects fostering collaboration between centres of excellence in Europe, Africa and the Middle East. We pilot innovative solutions on the ground and disseminate the results for market uptake.
We combine local knowledge with an international network and exposure also thanks to the collaboration with AREA, our sister SME based in Italy.
FabLab Winam Foundation (Martin Oloo, Kenya)
FabLab Winam is a community-based, open-access laboratory and a hub for knowledge-sharing, skills, and digital fabrication. We empower the community through local and distributed manufacturing, research, and education. We achieve this by providing a customised set of tools and machines that enable users to make and easily replicate designs made by other members of the network.
We also uphold a culture of creativity, collaboration, and localisation. Our vision is community empowerment through digital fabrication and local manufacturing. Some of our programs include;
Fabkids – children are equipped with skills and a mindset of venturing into Science, Technology, Engineering and Mathematics (STEM) courses at a very young age.
SHE-builds program is designed to bring more women into hardware tech and equip them with skills for financial freedom.
Jua Kali Plus program supports the Jua Kali artisans to improve the quality of their products through using modern tools like Computerised Numerical Control (CNC) machines as well as discussions around policies affecting their work.
Additional resources to learn more about FabLab Winam
https://youtu.be/fQZIjwpg7nw?si=5DtWRoxgAjdGQlK_
https://youtu.be/yAsDzMzz9ZY?si=X8oTbAV3ODlX29rj