Exciting Opportunity: Join Our Venture Building Program and Pitch Live to Investors!
September 18, 2023
4 min read
As part of the mAkE program, we, at the GreenTec Capital Africa Foundation, are thrilled to announce our Call for Application for the upcoming Pitch Event and Venture Building Program, where we aim to empower a minimum of 10 promising startups and consult with a total of 20 companies, all while fostering cross-continental collaboration between Europe and Africa. In this post, we will provide a glimpse of what this venture building endeavor entails.
>>> CALL FOR THE APPLICATION HERE <<<
More about the Venture Building Program
Participants will gain access to a strong list of seasoned industry experts who will offer a unique blend of insights and guidance tailored to each business's specific needs. The areas of focus on the venture building initiative are numerous and include, among others, funding and access to capital support, business strategy, operations, digital marketing and business development, financial management including financial modeling and business valuation. To ensure participants have ample time and resources to learn, create, solicit reviews, and reconstruct their ideas, the program will last between November 2023 and July 2024. Ultimately, through harnessing the resources provided by this initiative, participating ventures can create compelling value for their customers, shareholders, and employees.
The ideal participant:
is a post-MVP startup with their main operations in Africa OR a European company with a strong linkage to Africa, regardless of their sector
can demonstrate their focus and impact on the environment, local communities and/or society
is raising or aims to raise funding within the next months
can, but does not need to, have open-source components
The deadline to apply for this unique opportunity is October 15, 2023.
Introducing The Pitch Event
The heart of our initiative is where a selected group of 10 founders of our Venture Building Program will be given the chance to shine. Geared towards early-stage investors, each startup will have time to pitch their idea, followed by a Q&A session. After the event, there will be ample time for networking, where participants can forge meaningful connections with investors and ecosystem enablers.
A select group of founders will have the opportunity to articulate their business ideas and plans to highly experienced individuals who are ready to invest in impactful ideas. The event promises to be nothing short of exciting with an exclusive series of Business-to-Business matchmaking events, pitch training sessions culminating into the ultimate pitch event.
Are you an aspiring entrepreneur looking for a platform to pitch your groundbreaking startup idea to potential investors? Check out our webpage to understand all the details you need and apply.
Learn more about GreenTec
GreenTec Capital Africa Foundation, is an experienced transformative venture building business that provides strategic, operational, and financial support across the development stages of African ventures. GreenTec will be the core facilitator for the venture building initiative as part of its involvement and focus on the success of the mAkE program as a whole.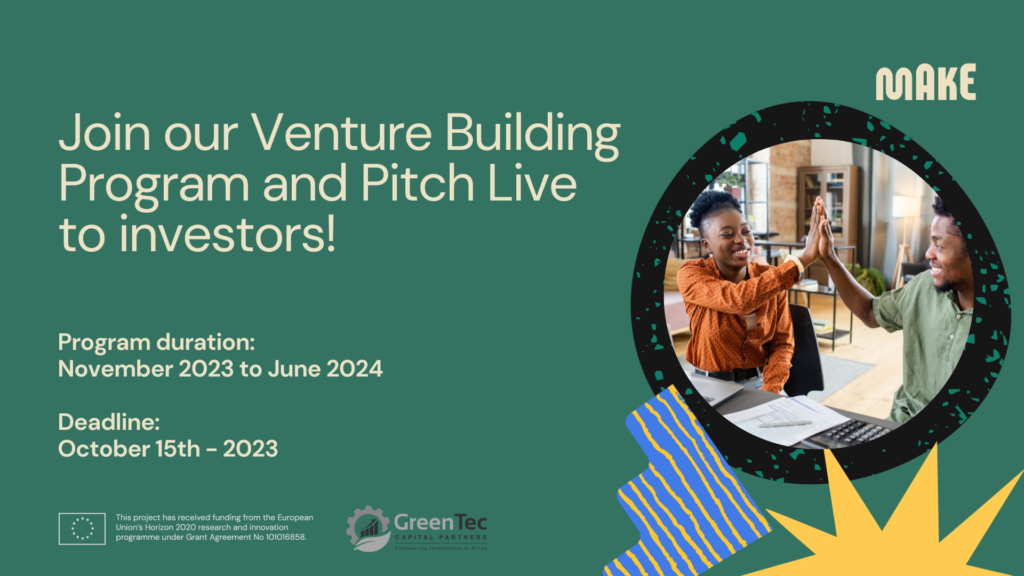 —–
Program:
Venture Building sessions focusing on investor readiness with our experts tailored to each startup's needs. We provide funding support, financial modeling, strategic advisory, digital marketing, pitch training and many more followed by an
In-person Pitch Event next summer in front of investors for 10 startups in either Europe or Africa (travel costs will be covered)
Digital Pitch Event to reach even more international investors from our network
When:
– Deadline for Application: 15.10.23
– Program duration: November 2023 until June 2024
Who can apply:
Early-stage startups that are registered and/or have their main operations in Europe or Africa
Sector agnostic
But with a positive impact on environment, local communities and/or society
You are raising/ you aim to raise funding within the next months
Open-source components are welcome but not necessary